KITE DRESSES Ahmedaba, India 2011
—We were made in Ahmedabad, India as part of Connecting Concepts, an exhibition focused on Dutch product & design process, curated by Ed van Hinte, starting in India and travelling through Turkey, China, Brasil and Germany

































Kite Remains dress and Makar Sankranti dress, inspirited by the remains of the kite festival and the beauty of home-made kites


Without a preconceived concept or plan, Painted Series came to Ahmedabad with the intention to work with whom and what they would meet, like a dropping. Known for designing and making work that grows from many hands, it was very exciting to let the work emerge in two weeks time. In the two dresses,a pallet of different found textiles married traditional manual techniques from both Indian and Dutch culture, including natural-dye, kalamkari hand painted textile, needlepoint lace, hand-sewing and net-embroidery. An encounter through the work.
Arriving in Ahmedabad, what struck immediately was the landscape in the air: a power line jungle,draped with remnants of
kites;

the remains of Makar Sankranti, the annual kite festival of India.
After sunrise, families go up to the roof terrace of their house to fly kites. With loud cries, they try to knock each other's kites out of the air. We just missed this famous festival, yet the kite remains tell the story. Everywhere still, when looking up, you saw them!


The shape derived from the pattern of an antique choli; the little top to be worn under the sari.
It is built up from squares and triangles to fit the body perfectly
Letting go of the illusion to explore the richness of Indian craft work in two weeks time,its application has not been an aim in itself.
Painted Series has worked with people they had an inspiring encounter with,
in appreciation of each other's work.

Their craft work was applied sparingly to add soul to the garments.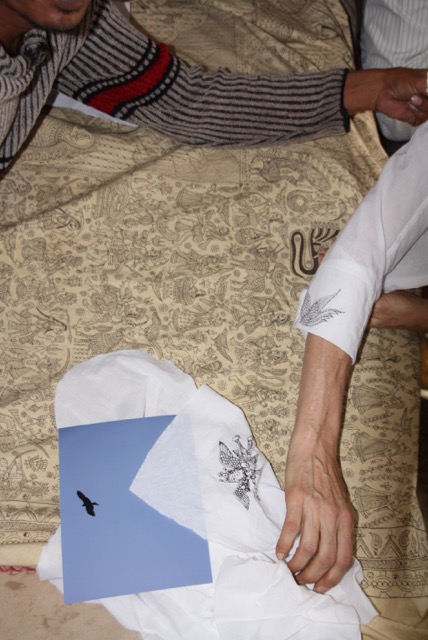 *****
Rajiyaben Ruby's Dying
The sleeves were dyed in a light green color with so much precision it speaks of the mastery of Rajiyaben Ruby.



















*****

Sitaben Chavda, who usually makes brightly colored, beautiful beadwork, found it funny to make tiny Chanel-like pockets for us using only white pebble-like beads.
*****
Kalamkari
The birds of Chandrakant Bulhabhai Chitara seem flown away from one of the extended scenes from Indian myths he is accustomed to paint, and appear to be settled down on one of the dresses.
This work is developed at the invitation of

Connecting Concepts

, curated by Ed van Hinte.
A coproduction of Premsela, the Netherlands Architecture Institute as part of the Dutch Design Fashion Architecture programme.
Painted Kite Lesson, performance at the opening of 'Connecting Concepts' at National Institute of Design (NID) Ahmedabad India, was made in collaboration with the Darpana Academy of Performing Arts, Ahmedabad.